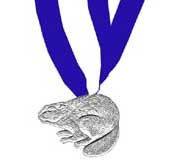 When : Thursday, January 24, 2013
Where: Sheraton Framingham Hotel - Route 9 - Framingham
Time: Gathering 6:00 PM - Dinner 6:45 PM
Cost: $35 Per Person - Table of 10 @ $350
The Knox Trail Council will be celebrating the exciting year we had in 2012, and some of our leaders who were nominated by their peers will be receiving the Council's highest honor, the Silver Beaver Award. This is the Council's opportunity to say thanks to the great Scouters of your Knox Trail Council. The Silver Beaver Awards for this year will be presented during the recognition portion of the Council Recognition Dinner.
The Silver Beaver is presented to a volunteer in recognition of service to youth in his or her community. Selections are based on recommendations and an evaluation of the total impact that the nominee's activities have demonstrated in the community in which they live and work. Each honoree is a dedicated person such as yourself who has had a positive influence on our youth. The annual festivities will take place:
The dinner & recognition portion of the evening will begin at 6:45 pm, following the 5:15 pm Business Meeting, and 6:00 pm Fellowship. Reservations are required, so please save the date and plan to attend. (Appropriate, business attire suggested.)
The event promises to be an evening of fun and fellowship, showcasing some of Knox Trail Council's achievements throughout the year, and an opportunity to salute you and the many others who have helped your council to be one of New England's finest!
We Would Especially Hope to Hear From:
Silver Beaver Recipients ~ Executive Board Members ~ District & Council Committee Members ~ District Award of Merit Recipients ~ Chartered Organization Representatives ~ All Scouters, Spouses and Their Guests
Register here online or download the Dinner Sign-up Form!